TePe Supreme™ is an innovative toothbrush with bristles in two levels, this design enables more efficient cleaning further in between the teeth and along the gum line.
TePe Supreme also has a tapered brush head so you can easily reach the back teeth without a struggle. To get into the farthest corners and hard to reach areas, the toothbrush neck can be angled - no heat necessary! Stay comfortable during brushing with an ergonomic non-slip handle with thumb pad.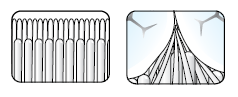 Available in Regular & Compact brush head sizes.